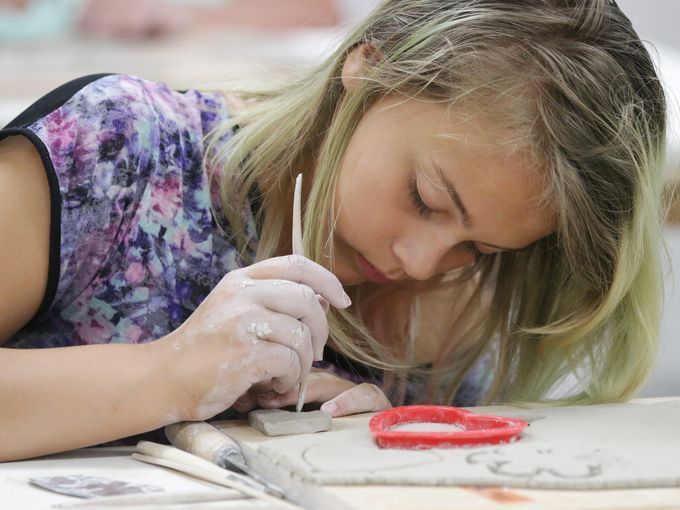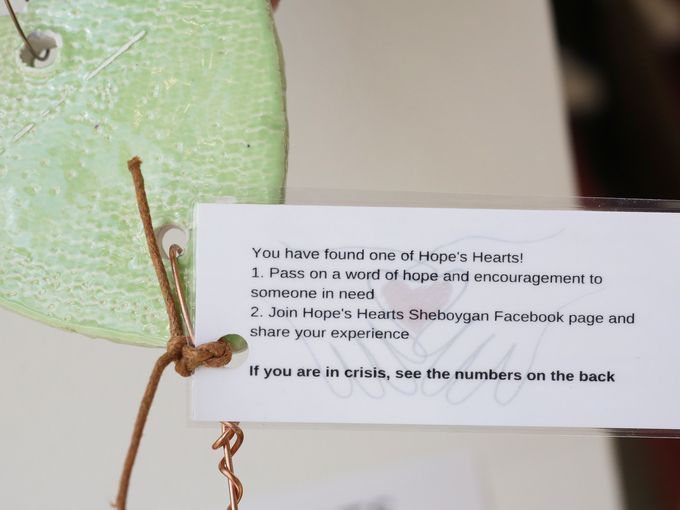 Photos: ML Photography and Design, Sheboygan Press, John Michael Kohler Arts Center
reducing youth vulnerability...
Youth are often abused, bullied, struggling with low self-esteem, or looking for someone to love them. This makes them more vulnerable to human traffickers. Reducing youth vulnerability to trafficking became one of Freedom Cry's goals in June 2017 and the idea for the Hope's Hearts project was born. Hope's Hearts is a community art project at the John Michael Kohler Arts Center for the purpose of creating beautiful wind chimes with words of hope. The wind chimes are placed all over Sheboygan in hope that those who are vulnerable will find them and be encouraged, thus reducing vulnerability to trafficking.
The chimes include five words of encouragement on ceramic hearts, contact information for organizations who can help in crisis, and a call to encourage others. In the art studio, participants create ceramic hearts, stamp them with the selected words of encouragement, and put them together into wind chimes.

The 5 words are:
Hope - courage to keep moving forward

Courage - strength to make the journey

Strength - inner power to withstand whatever comes

Faith - wings and sail of our dreams

Wisdom - guardian of our choices
Together we can encourage those who are vulnerable in our community!
TEENS FOR HOPE'S HEARTS
Our Teen's for Hope's Hearts offers middle and high school students the chance to make a difference in the lives of other youth. Every hour a teen works on the Hope's Hearts project earns him/her points to get great prizes, such as a Teens For Hope's Hearts T-Shirt, Marcus Theatre gift certificates, South Pier Parlor gift certificates, and more!
Join us at the John Michael Kohler Arts Center Artery:
School Year: Tuesdays 3 pm - 7 pm
Summertime: Tuesdays 10 am - 1 pm and 3 pm - 7 pm
NO HOPE'S HEARTS IN JANUARY, MAY, AND SEPTEMBER
Open to the public and free. If you have a group of 8 or more, you can request a private time. Please email Freedom Cry Hope's Hearts project coordinator Jessica Trotta (god_rules86@yahoo.com) and Craig Grabhorn of the John Michael Kohler Arts Center (cgrabhorn@jmkac.org) to request a time.
Follow the project on Facebook and Instagram @hopesheartssheboygan.
As featured in the Sheboygan Press:
http://www.sheboyganpress.com/videos/news/local/2017/07/27/hopes-hearts-chimes-help-human-trafficking/104059608/